General:
When designing the "Rührteufel 1.0", a mash agitator for hobby brewers, special emphasis was placed on quality, flexibility and safety. In contrast to the "Rührteufel 2.0", the "Rührteufel 1.0" is not equipped with its own temperature control, but the less precise temperature control of the mashing pan is used.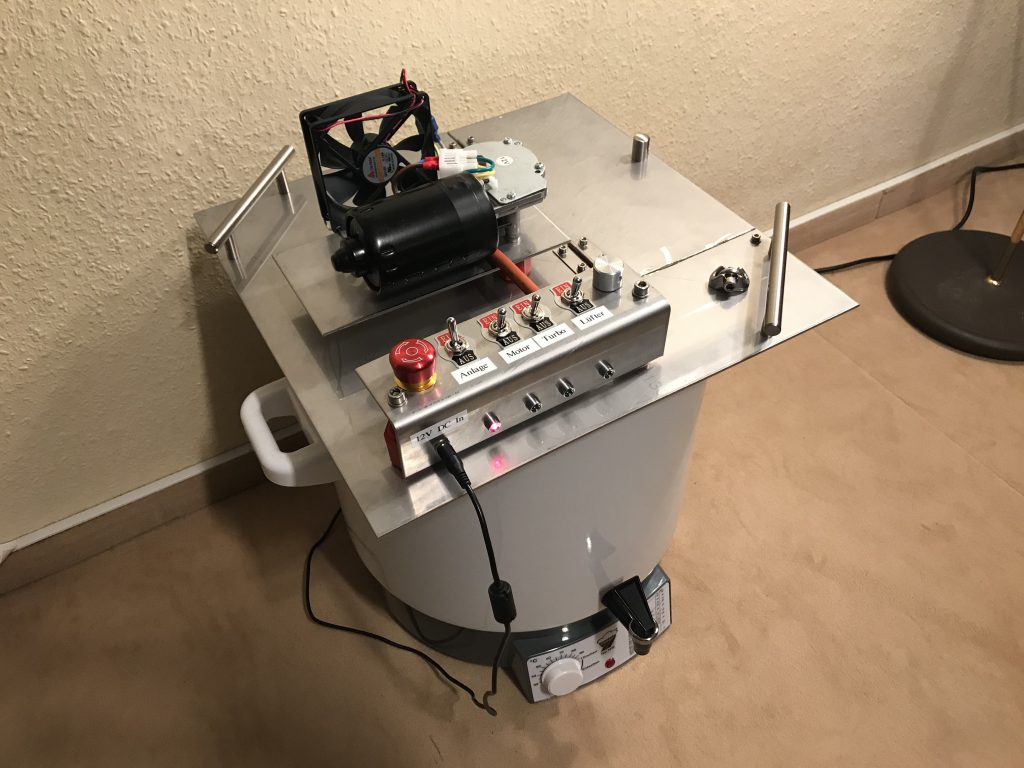 Quality:
All metallic components are made of V2A or V4A stainless steel, all electrical components can be loaded with at least 12V / 10A. In addition, all components have a heat resistance of at least 90 degrees Celsius or above.
FUNCTIONALITY:
The stirrer (brewing paddle) and the deflector (baffle plate) are adjustable both in their height and in their inclination and thus in their stirring effect. In addition, the stirring speed can be selected between 2 levels.
Safety:
As already mentioned under "Quality", all components have a heat resistance of at least 90 degrees Celsius or above. A continuously adjustable fan also reliably prevents the electrical components from overheating. In addition, all components are thermally and electrically insulated from the mash pan by insulating supports. All electrical components of the system only have a voltage of 12V – the 220V transformer is stored away from the mashing process. Due to tight tolerances in the drive shaft bushing, steam leakage from the mash pan is minimized and the motor is additionally protected from escaping steam and heat by a separate motor mounting plate. The agitator can be safely and conveniently lifted off the mash pan using two easily accessible handles. The agitator is also secured against slipping and twisting by two centering devices. In the event of unforeseeable incidents, the entire system can be disconnected from the power supply via an emergency stop switch and stopped immediately.